12
Nominated for Best Foreign Language Film at the 2007 Academy Awards!
Except for a few scenes, Sidney Lumet's celebrated 1957 film 12 Angry Men takes place entirely in a cramped, stuffy jury room. Twelve sweating jurors debate whether to send a teenager to the electric chair for stabbing his father. That's not the case in this remake by director Nikita Mikhalkov: his film switches back and forth between the jury room and war-torn Chechnya, the accused's home, to visceral and devastating effect. Mikhalkov's film is not just a Russian-accented copy, but a movie that also drives home the terrible brutality of the Chechen wars. In this new version, a Chechen boy is taken to Moscow by a soldier – a family friend – after his parents are killed during the murderous conflict between Russia and Chechen separatists in the 1990s. The soldier is stabbed in his apartment, while a neighbor hears someone cry, 'I'll kill you!' and says he saw the boy running away. Mikhalkov, whose Burnt By The Sun won the 1994 Oscar for Best Foreign Film, explained that his movie is a criticism of former President Boris Yeltsin's readiness to wage war in Chechnya – and drew parallels with U.S. President George W. Bush's war in Iraq. Though the film is an hour longer than 12 Angry Men, Mikhalkov livens the narrative with rich cinematography and sound effects absent in its black-and-white predecessor. The cavernous jury room is flooded with intense crimson light as the sun sets, and thick shadows later lengthen across it. Trains and pipes softly clink in the background, and, after a bird flies in, heavy silences are punctured by the atmospheric whirr of its wings. – Alastair Gee, The Moscow Times
Showtimes:
No screenings currently scheduled.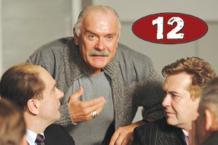 Directed by:
Nikita Mikhalkov
Language:
Russian and Chechen with English subtitles
Starring:
Nikita Mikhalkov, Sergey Garmash, Aleksei Petrenko, Yuriy Stoyanov
Screenplay by:
Nikita Mikhalkov, Vladimir Moiseyenko, Aleksandr Novototsky