Bright Star
Together they rode a wave of romantic obsession.
Poet John Keats (Ben Whitshaw, Brideshead Revisited) died in 1821 at age 25, and his final years were marked by an incredible burst of creativity as well as by his one great romance, which inspired some extraordinary love letters. By concentrating on the latter, as experienced by Fanny Brawne (Abbie Cornish, in an outstanding performance), director Jane Campion (The Piano, Portrait Of A Lady) gives rather short shrift to the former, leaving the viewer with a vivid picture of the social constraints on grand passion and romantic fulfillment in England at the time. Most of the action is confined to two neighbouring houses in Hampstead Village, North London, beginning in 1818. Living in one is the Brawne family, a fatherless brood consisting of matriarch Mrs. Brawne (Kerry Fox), 18-year-old daughter Fanny and her two younger siblings, while the bearded, boorish Mr. Brown (Paul Schneider) and Keats occupy the other. Campion devotes special attention to the physical and aural aspects of this little middle-class corner of British society, thereby highlighting the sensual qualities of life that particularly captivated Keats himself. The opening shots convey the act of sewing – Fanny's frequent activity – with unsurpassed intimacy and other scenes pointedly focus upon pastimes that quiver with quasi-sexual sublimation, including dancing, sport, butterfly-collecting and hunting for the most fragrant flowers. Then there is the poetry, which brings home the realization of how few films have ever dealt with poets and their work. Effectively establishing herself as an onscreen proxy for most viewers, Fanny early on confesses to Keats that 'poems are a strain to work out,' but then volunteers to take lessons in poetry appreciation, which allows Keats to recommend an emotional, impressionistic reaction rather than an intellectual one. Keats is clearly captivated by Fanny, who stands out by virtue of the direct gaze with which she meets all people and predicaments. All the same, she can scarcely throw off the constraints of family expectations and social norms, just as Keats feels unable and even unqualified to pursue a proper courtship with Fanny due to his poverty and lack of prospects. Even at its height, their romance is physically expressed only by gentle kissing and caressing; their emotions are conveyed largely through letters and verse. Keats, who feels himself 'dissolving' in his love for Fanny, also begins to dissipate physically from tuberculosis. Advised to move to a warmer climate, he decamps for Italy, where he succumbs. The film conveys the climactic information as Fanny learns it, to palpably convulsive effect. With brown hair pulled tightly, Cornish is made to look plainer than she actually is, which better emphasizes the importance of Fanny's character for Keats. The majority of her performance's success rests in her eyes, which, one senses, see and process so much. All of Campion's films center upon strong, complicated women, and Cornish's Fanny takes her place among the most memorable of them. – Todd McCarthy, Variety
Showtimes:
No screenings currently scheduled.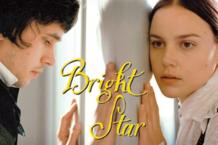 Directed by:
Jane Campion
Country(ies):
UK/Austraila/France
Starring:
Abbie Cornish, Ben Whitshaw, Thomas Sangster, Kerry Fox