Caramel
A romantic comedy centered on the daily lives of five Lebanese women living in Beirut.
Caramel is a romantic comedy drama set in a Beirut beauty salon, where five women regularly meet and confide in each other. Writer-director Nadine Labaki takes the lead role as Layale, a beautiful 30-year-old woman who's in love with a married man, while oblivious to the fact that a local cop (Adel Karam) has a crush on her. The other women include: co-worker Nisirine (Yasmine Al Masri), who is desperate to prevent her Muslim fiance from discovering that she's no longer a virgin; Rima (Joanna Moukarzel), who develops a crush on one of her female clients; Jamale (Gisele Aouad), a divorcee who is afraid of growing old; and Rose (Siham Haddad), an elderly seamstress who has devoted her life to taking care of her slightly bonkers older sister (Aziza Semaan), but who experiences a glimmer of romantic possibility when a male client asks her out to dinner. The title refers to a toffee-like product that is used for hair removal in the Middle East, but it stands as a perfect metaphor for the themes of the film, in that it's a sugary, delicious substance that can also burn you. Accordingly, the film's five different storylines elicit several different emotions, some sweet, some bittersweet. Labaki has assembled an impressive cast of non-professional actors: Gisele Aouad is particularly good as Jamale – indeed, her character wouldn't be out of place in an Almodovar movie. Similarly, Labaki herself proves as strong an actress as she is a writer-director, indicating that she could have a Woody Allen-style career ahead of her. Aside from being beautifully shot and containing several wonderful scenes, Caramel also presents an intriguing portrait of life in modern-day Beirut, with Christians and Muslims living side by side and happily going about their lives – politics are left very firmly in the background. Worth seeing? Caramel is as sweet as its name suggests and it marks Nadine Labaki out as a definite talent to watch.
Showtimes:
No screenings currently scheduled.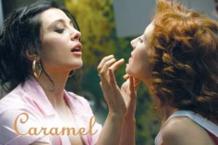 Directed by:
Nadine Labaki
Country(ies):
France/Lebanon
Language:
Arabic/French with English subtitles
Starring:
Nadine Labaki, Yasmine Elmasri, Joanna Moukarzel
Screenplay by:
Rodney El Haddad, Jihad Hojeily