Coco Before Chanel
Before she was France's famous mademoiselle...
Directed by Anne Fontaine, Coco avant Chanel is an enjoyable, well made, and brilliantly acted biopic about the early life of Gabrielle 'Coco' Chanel (Audrey Tautou). Beginning with a short prologue in which young Gabrielle and her sister are dumped in an orphanage by their father, the film then flashes forward 15 years to find the sisters working as seamstresses and cabaret singers, where Gabrielle gains the nickname 'Coco'. Beginning a relationship with upper-class patron Étienne Balsan (Benoît Poelvoorde), Coco shows up at his country estate one day and is allowed to stay on; she subsequently befriends Balsan's former mistress, actress Emilienne (Emmanuelle Devos), and begins her career by designing hats for Emilienne's high society friends. Meanwhile, Balsan becomes jealous when Coco falls for English businessman Arthur 'Boy' Capel (Alessandro Nivola). Audrey Tautou is superb as Coco, particularly in the early cabaret scenes (the Coco song is extremely catchy). Her later persona is more austere and cynical but she never loses that Amélie-like glint in her eye that tells you there's more going on under the surface. There's also terrific support from Poelvoorde and Nivola as the two men in her life. Poelvoorde has the showier role and gets all the best lines, but Nivola is quietly brilliant as Boy – he has strong chemistry with Tautou and their scenes together are extremely moving. The film is also beautifully shot by Christophe Beaucarne and careful attention has been paid to the set design, with the simplified black and white interiors subtly evoking what will become Chanel's signature style. – Matthew Turner, ViewLondon
Showtimes:
No screenings currently scheduled.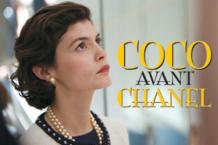 Directed by:
Anne Fontaine
Language:
French with English Subtitles
Starring:
Audrey Tautou, Benoit Poelvoorde, Alessandro Nivola, Marie Gillain
Screenplay by:
Edmonde Charles-Roux (book), Anne Fontaine, Camille Fontaine