I m Not There
I accept chaos. I don't know whether it accepts me.
Todd Haynes (VELVET GOLDMINE, FAR FROM HEAVEN) delivers this dazzling, experimental take on the life of popular music's most revered and enigmatic artist: Bob Dylan. In keeping with the impossible-to-pin-down nature of Dylan himself, Haynes chose to cast six different actors to portray several incarnations of the groundbreaking troubadour. The result is a challenging, sprawling work that spans several decades and genres. Woody (Marcus Carl Franklin) is a young black child with a folk music obsession; Jack Rollins (Christian Bale) is an upstart folksinger whose protest songs have ignited an entire generation; Arthur (Ben Wishaw) is a Rimbaud-esque figure who has begun to embrace a new form of lyrical poetry; Robbie (Heath Ledger) is a well-known actor whose marriage to the lovely Claire (Charlotte Gainsbourg) crumbles under the weight of his lifestyle; Billy (Richard Gere) is a slippery frontiersman who echoes Dylan's infatuation with the Old West and American folklore; and, finally, there is the substance-abusing, confrontational Jude (Cate Blanchett), who represents Dylan in the turbulent mid-1960s. Much in the same way that Dylan appropriated a vast array of musical styles to create his own vernacular, Haynes does the same thing with I'M NOT THERE, using his expansive knowledge of movie history to pay homage to a variety of movements and genres (Godard, Fellini, Lester, etc.). The typically extraordinary cinematographer Edward Lachman outdoes even himself this time around, incorporating so many different visual styles that it's impossible to decide which is the most beautiful. While the cast all fare well in their roles, it is Cate Blanchett who runs away with the picture, proving once again that she is one of the finest actors the movies have ever seen.
Showtimes:
No screenings currently scheduled.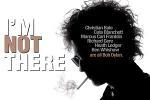 Country(ies):
USA/Germany
Starring:
Cate Blanchett, Ben Whishaw, Christian Bale, Richard Gere, Marcus Carl Franklin, Heath Dedger, Kris Kristofferson
Screenplay by:
Todd Haynes & Oren Moverman