In the Loop
The fate of the world is on the line.
In The Loop is hands down the funniest movie I've seen all year and also the smartest. A political satire set in London and Washington, it manages to skewer so many targets that, by the end, nothing is left standing. The film spins off the BBC series 'The Thick Of It' which, like In The Loop, features Peter Capaldi as Malcolm Tucker, the prime minister's frenetically foul-mouthed communications director. (Tucker is reputedly based on former Prime Minister Tony Blair's chief strategist, Alastair Campbell.) 'The Thick Of It' was confined to the messy precincts of London politics. In The Loop enlarges the madness to ground zero – the White House – in the run up to a war based not-so-loosely on the Iraq situation. The lunacy begins when Simon Foster (Tom Hollander), Minister for International Development, mistakenly goes off script during a radio interview in which he is asked about the possibility of a US war in the Middle East. He calls the possibility 'unforeseeable', which riles the prime minister's people and gladdens Washington's war hawks. Damage control only results in further damage, as Simon is dispatched to D.C. to clear the air and succeeds only in fogging it up. Not since the heyday of Preston Sturges has there been such whiplash dialogue bouncing off the walls of the asylum. There's clearly a visceral thrill for the actors in delivering lines this good. As in the best satires, the characters they play are both universal and sui generis. Simon, the fusty bureaucrat, is matched by his opposite, Malcolm, whose Type A personality should really be upgraded to Triple A. His Washington counterparts, a dovish but bullish Pentagon general (James Gandolfini) and a smiling cobra State Department bigwig (David Rasche), throw their weight around, secure in the knowledge that Britain needs America much more than America needs Britain. (Among many other things, In The Loop is a scathing slam on the pretense of US-British amity.) The rest of the marvellous cast includes Chris Addison as Simon's young advisor, Mimi Kennedy as US assistant secretary for diplomacy (diplomacy – there's a laugh), Anna Chlumsky as the assistant's assistant, Gina McKee as Simon's Director of Communications (communications – there's another laugh), and Steve Coogan as a loony citizen from Simon's constituency of Southampton. There isn't an actor in this film, not even a walk on, who isn't perfection. Although In The Loop does not have a pretentious bone in its body, allow me my pretensions when I say that, in its own screw-loose way, this is one of the best antiwar comedies since Wag The Dog. – Peter Rainer, Christian Science Monitor
Showtimes:
No screenings currently scheduled.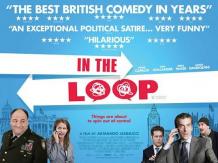 Directed by:
Armando Iannucci
Starring:
Peter Capaldi, Tom Hollander, Gina McKee, James Gandolfini
Screenplay by:
Jesse Armstrong, Simon Blackwell