Tetro
New from cinemaestro Francis Ford Coppola!
It seems to piss off people that Francis Ford Coppola, 70, has returned to his roots to make intimate, self-financed films that inspire him while Hollywood would prefer another sequel to The Godfather. Tetro, following 2007's Youth Without Youth, is another finger in the face of the suits. Shot in Argentina with widescreen black-and-white images that take your breath away, Tetro is a drama about family secrets. "Gifted newcomer Alden Ehrenreich plays Bennie, a young cruise-ship worker who hops off in Buenos Aires to find his artist brother, Tetro (Vincent Gallo). At first, the sullen Tetro ignores the boy, leaving the TLC to his girlfriend, Miranda (the excellent Maribel Verdú). But the two find a common bond in their resentment of their famous composer-conductor father, Carlo (Klaus Maria Brandauer). Since Coppola has a brother, August (dad of Nicolas Cage), and they both grew up with a composer father, Carmine, you might wonder if art is imitating life. At Cannes, where Tetro had its debut, Coppola offered a cryptic answer: 'Nothing like this happened, and everything is true.' My advice is just to go with the film's fierce emotional pull. There isn't a frame of this raw and riveting movie that Coppola doesn't invest with feeling. Enhanced by Mihai Malaimare's extraordinary cinematography and stellar performances from Gallo and Ehrenreich, Tetro reveals a filmmaker insisting on his right to experiment, even fail. Bravo to that. – Peter Travers, Rolling Stone
Showtimes:
No screenings currently scheduled.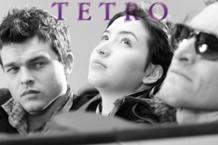 Directed by:
Francis Ford Coppola
Language:
In English and Spanish with English subtitles.
Starring:
Vincent Gallo, Maribel Verdú, Alden Ehrenreich, Klaus Maria Brandauer