The Soloist
Life has a mind of its own.
Less British, and set in a somewhat more recent period than Joe Wright's prior duet of acclaimed features, his musical drama, The Soloist, hails from a sensitive script by the writer of Erin Brockovich, In Her Shoes, and 28 Days. The combination of a story based in truth, the inarguable potency of a moving musical score set to fiddle the heart, and the presence of cinema's venerable lost puppy, Robert Downey Jr., seems set to stir up awards buzz. In this case, Downey plays a journalist who befriends a Julliard-trained musician bedevilled by mental illness (played by Jamie Foxx, whose last cinematic turn to fully embrace his musical talents landed him an Oscar). Despite the journalist-versus-subject relationship that forms between Downey Jr. and Foxx's phenom, this is not the newshound film of the 1970s; Wright rather provides a palpably composed and craftily considered musical manipulation (that's a compliment) to set the soul to stir. The Soloist is more The Fisher King or The Pursuit Of Happyness than Resurrecting The Champ and we dare you to not shed a tear. – Elliot V. Kotek, Moving Pictures Magazine
Showtimes:
No screenings currently scheduled.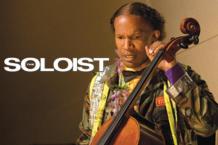 Country(ies):
UK, USA, France
Starring:
Robert Downey Jr., Jamie Foxx, Stephen Root, Catherine Keener
Screenplay by:
Susannah Grant, based on the book by Steve Lopez