Unmistaken Child
A Tibetan monk's search for the reincarnation of his beloved teacher.
Unmistaken Child is a real time documentation of the search for a reincarnated Tibetan master, told through the eyes of his lifelong disciple. Visually stunning, emotionally gripping, and shot over the course of four years, the film follows an ages-old sacred quest through the eyes of a remarkable attendant. After 26 years of isolated meditation in a mountain cave, Lama Konchog became world renowned as one of the greatest Tibetan Masters of our times. In 2001, at the age of 84, he passed away and his shy and devoted disciple, Tenzin Zopa, was instructed by the Dalai Lama to search for his master's reincarnation. The 'unmistaken child' must be found within 4 years, before it becomes too difficult to separate him from his parents. Tenzin entered the service of his master at age of 7, at his own request, and had been with the master continuously for the 21 years until his death. The loss of his teacher leaves him bereft and utterly lonely, and he is unsettled by his responsibility to carry out this highly secretive search - that of finding his beloved spiritual father embodied in a little boy that may be anywhere in the world. His search crosses lands, passing though starkly beautiful mountains and small villages that appear to be unchanged for hundreds of years. Assisted by astrology, signs in dreams and the whispers of villagers, Tenzin travels by helicopter, mule and foot, and when he does come upon an apparent contender, we join Tenzin and his young charge through the mysterious procedures that will—or will not—confirm the reincarnation. We have seen similar tests before in movies like Martin Scorsese's Kundun; but to witness the real thing is even more magical. While Unmistaken Child brings to light a rarely seen aspect of the Buddhist faith, the true revelation is the journey of Tenzin the man. Modest, shy, but with a delightfully impish sense of humor, we come to know a man who appears to be of another time and place and yet is profoundly living in the present. Alone on his quest, he is only able to share his thoughts and feelings with filmmaker, Nati Baratz, and his simple honesty and unselfconsciousness make the viewer a privileged partner in Tenzin's passage to the next phase of his remarkable life.
Showtimes:
No screenings currently scheduled.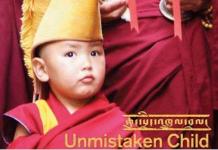 Language:
English, Tibetan, Hindi, Nepali