Woodstock
Must-See Cinema! 40th Anniversary of three days of peace, love and music on Max Yasgur's farm!
As the roaches moulder in the gutters of Haight Ashbury, and the Love generation consider their bank statements, we're left with this legendary piece of trend-setting opportunism to reflect on. The screen shatters into split-screen fragments [one of the camera operators was a young guy named Martin Scorsese] of middle-class kids in rags, of super-lays offering their love to millions, of nipples al fresco. Of course there's Hendrix coming orgasmically alive, Richie Havens shot from below and carved from granite, Joe Cocker timelessly manic, Crosby, Stills & Nash in some peace-sodden heaven. A time capsule, yes, and a hallowed memory, perhaps. But gimme shelter. – Time Out Film Guide
Showtimes:
No screenings currently scheduled.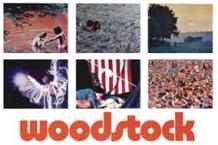 Directed by:
Michael Wadleigh