A LEAGUE OF THEIR OWN ~ Now Playing!
As America's stock of athletic young men is depleted during World War II, a professional all-female baseball league springs up in the Midwest, funded by publicity-hungry candy maker Walter Harvey (Garry Marshall). Competitive sisters Dottie Hinson (Geena Davis) and Kit Keller (Lori Petty) spar with each other, scout Ernie Capadino (Jon Lovitz) and grumpy has-been coach Jimmy Dugan (Tom Hanks) on their way to fame. Madonna and Rosie O'Donnell co-star as two of the sisters' teammates.
THE ORIGINAL PEACHES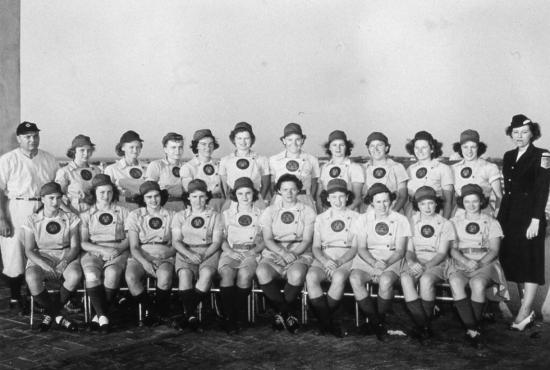 The Rockford Peaches were an actual team—one of 15 that existed in the Midwest-based league before its dissolution in 1954, including the Kalamazoo Lassies, Chicago Colleens, Peoria Redwings and Grand Rapids Chicks. As for the inspiration behind Dottie, that would be Peaches' first baseman Dorothy "Dottie" Kamenshek, who told Marquette Magazine, "In the beginning, we were only getting 500 people in the stands, and then it got up to 10,000, which is good for a town that supports minor league baseball. Eventually, we won them over. At first they just came to see the skirts, and then we showed them we could play."
Unlike the men, though, they were subjected to a slew of rules outside of the decidedly feminine uniform (designed by Philip K. Wrigley's wife). Shorter hairstyles were a must, as was the etiquette training featured in the film. And if women dared smoke, drink, wear pants in public or even step out without makeup, they were subject to fines.