A Single Man
Stunning directorial début from Tom Ford. Winner of Best Actor at the Venice Film Festival.
Directed by designer Tom Ford, A Single Man is based on the novel by Christopher Isherwood and stars Colin Firth as George Falconer, a 52-year-old college professor in 1962 Los Angeles, who's struggling to come to terms with the death of his long-term partner Jim (Matthew Goode) and is making plans to commit suicide. Over the course of what he intends to be his final day, George meets up with his ex-lover and devoted friend Charley (Julianne Moore), flirts with an attractive Spanish stranger and has a series of charged encounters with one of his students (Nicholas Hoult), but will these moments of human connection be enough to change his mind? Colin Firth is terrific as George, delivering a powerfully emotional performance that is extremely moving. He also has strong chemistry with both Goode (in flashback scenes) and Hoult (both of whom give finely judged, sensitive performances), while Julianne Moore almost steals the film as Charley; their dancing scene is a rather wonderful highlight. The film looks utterly gorgeous throughout, thanks to Eduard Grau's stunning cinematography and some impeccable 1960s set design work. Ford also includes some bold directorial flourishes (notably a rush of colour whenever George connects with someone) that occasionally threaten to backfire, but ultimately serve to heighten our empathy with George's emotional state. A Single Man is a beautifully shot, sharply written and emotionally engaging drama with a terrific central performance from Colin Firth. It also marks Tom Ford out as a director to watch. – Matthew Turner, ViewLondon
Showtimes:
No screenings currently scheduled.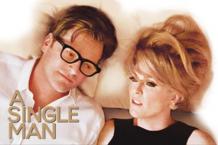 Starring:
Colin Firth, Julianne Moore, Matthew Goode, Nicholas Hoult, Ginnifer Goodwin
Screenplay by:
Tom Ford & David Scearce, based on the novel by Christopher Isherwood