Adam
A story about two strangers. One a little stranger than the other...
Romance can be risky, perplexing and filled with the perils of miscommunication -- and that's if you aren't ADAM, for whom life itself is this way. In this heartfelt romantic comedy, Hugh Dancy (The Jane Austen Book Club, Confessions of a Shopaholic) stars as Adam, a handsome but intriguing young man who has all his life led a sheltered existence - until he meets his new neighbor, Beth (Rose Byrne, Damages, 28 Weeks Later, Knowing), a beautiful, cosmopolitan young woman who pulls him into the outside world, with funny, touching and entirely unexpected results. Their implausible and enigmatic relationship reveals just how far two people from different realities can stretch in search of an extraordinary connection. --© Fox Searchlight
Showtimes:
No screenings currently scheduled.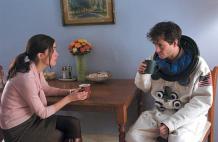 Starring:
Hugh Dancy, Rose Byrne, Frankie Faison, Mark Linn-Baker