Bedtime Stories
Whatever they dream up... he has to survive.
Skeeter Bronson (Adam Sandler) is a hotel handyman whose life is changed forever when the bedtime stories he tells his niece and nephew start to mysteriously come true. When he tries to help his family by telling one outlandish tale after another, it's the kids' unexpected contributions that turn all of their lives upside down.
Showtimes:
No screenings currently scheduled.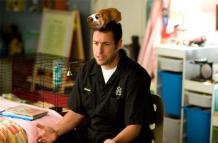 Directed by:
Adam Shankman
Starring:
Adam Sandler, Keri Russell, Guy Pearce, Russell Brand, Richard Griffiths, Teresa Palmer, Lucy Lawless, Courteney Cox
Merchandise
Name plaques, donations, gift certificates, memberships, aprons, market bags, T-shirts, hats, 35mm bookmarks, 35mm earrings and button.
Due to shipping expenses, we request a minimum $25 order.