Bella
One Person Can Change Your Life Forever
In director Alejandro Monteverde's emotional tale of self-discovery, two people whose lives are changed forever discover that sometimes it takes losing it all to finally appreciate the things that truly matter. Starring Mexican superstar Eduardo Verastegui (Chasing Papi) and Emmy award winning Tammy Blanchard (The Good Shepherd), Bella is a heartwarming love story about life, relationships and our capacity for love in the face of the unexpected. BELLA took the top prize at Toronto's International Film Festival by winning the highly-coveted "Peoples Choice Award," a distinction that puts it in the company of such Oscar-winning films as Chariots of Fire, American Beauty, Life is Beautiful, Crouching Tiger, Hidden Dragon and Hotel Rwanda.
Showtimes:
No screenings currently scheduled.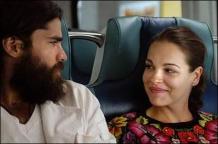 Directed by:
Alejandro Gomez Monteverde
Starring:
Eduardo Verastegui, Tammy Blanchard, Manny Perez, Ali Landry, Angelica Aragon
Screenplay by:
Alejandro Gomez Monteverde and Patrick Million
Merchandise
Name plaques, donations, gift certificates, memberships, aprons, market bags, T-shirts, hats, 35mm bookmarks, 35mm earrings and button.
Due to shipping expenses, we request a minimum $25 order.