High School Musical 3: Senior Year
The first HIGH SCHOOL MUSICAL movie to be released straight to the silver screen, HIGH SCHOOL MUSICAL 3 finds the cast of the beloved earlier installments, all students at East High, dealing with the ups and downs of senior year. While all the characters have their own dilemmas, the central issue, as in past films, is the relationship between sweethearts Troy (Zac Efron), the captain of East High's Wildcats basketball team, and the bookish Gabriella (Vanessa Hudgens), who face the possibility of imminent separation when Gabriella gets a chance to attend college early. With this third outing in the wildly popular Disney series, director Kenny Ortega takes full advantage of HSM3's big-screen leap, staging musical numbers that go far beyond the scope of the movie's predecessors (see the lavish "I Want It All" by resident East High diva Sharpay, played by Ashley Tisdale). While the series regulars are in fine form and a few new characters are introduced, the film really belongs to Efron, who gets the most screen time and is clearly on a trajectory for stardom beyond HSM. Rather than hold back their budding leading man, the creators and producers of HSM3 let Efron take the spotlight, much to the movie's advantage. Designed to welcome the few viewers who might be unfamiliar with HIGH SCHOOL MUSICAL, SENIOR YEAR certainly offers plenty of valedictory excitement, and will leave fans giddy with delight.
Showtimes:
No screenings currently scheduled.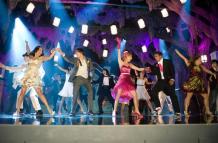 Directed by:
Kenny Ortega
Starring:
Zac Efron, Vanessa Anne Hudgens, Ashley Tisdale, Lucas Grabeel