Kit Kittredge: An American Girl
In the first feature film based on the hugely popular American Girl® book series, Oscar® nominee Abigail Breslin (Little Miss Sunshine) stars as a resourceful young girl whose bravery, compassion and determination help her solve a mystery that saves her family's home during the Great Depression. Kit Kittredge: An American Girl is directed by Patricia Rozema (Mansfield Park) from a screenplay by Ann Peacock (The Chronicles of Narnia: The Lion, the Witch and the Wardrobe). The film's all-star ensemble cast includes two-time Oscar nominee Joan Cusack (In & Out, Working Girl), Glenne Headly (Dirty Rotten Scoundrels), Tony Award winner and Golden Globe nominee Jane Krakowski ("Ally McBeal"), Golden Globe nominee Chris O'Donnell (Batman & Robin), Julia Ormond (Legends of the Fall), Wallace Shawn (The Princess Bride) and two-time Golden Globe winner Stanley Tucci (The Devil Wears Prada). Aspiring reporter Kit Kittredge can't resist bringing home strays, whether it's Grace, an abandoned basset hound or Will and Countee, a pair of young hobos willing to trade work for meals. Bright, inquisitive and generous, Kit is a natural born leader. But her happy childhood is abruptly interrupted when her father (Chris O'Donnell) loses his car dealership and must leave Cincinnati to look for work. Kit and her mother Margaret (Julia Ormond) are left to manage on their own, growing vegetables, selling eggs and even taking in an assortment of boarders including an itinerant magician (Stanley Tucci), a vivacious dance instructor on the prowl for a husband (Jane Krakowski) and a zany mobile librarian (Joan Cusack). When a crime spree sweeps Cincinnati, all signs point to the local "hobo jungle," where Will and Countee live with a group of their impoverished companions. Kit, who always has her antennae out for a good news story, convinces her new friends to take her to see the hobo camp for herself and writes an article that creates a sympathetic portrait of the camp's residents. But when Kit's mother and their boarders become the latest victims in a string of robberies, Kit's loyalties are tested. Will is accused of the crimes and, with all of their savings gone, the Kittredges face losing their house to foreclosure. Determined to recover the stolen money and believing Will is innocent, Kit recruits her friends Ruthie (Madison Davenport) and Stirling (Zach Mills) to help her track down the real culprit. Together they uncover a plot that goes far beyond Cincinnati!
Showtimes:
No screenings currently scheduled.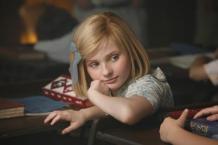 Directed by:
Patricia Rozema
Starring:
Abigail Breslin, Stanley Tucci, Julia Ormond, Joan Cusack, Glenne Headly