Last Train Home
From the producers of Up The Yangtze!
Holidays: a time for family. As true as this may be in Western culture, with Thanksgiving and Christmas drawing families together more than any other events in North America, it is far more true in China. Chinese New Year brings the nation – and Chinese communities all around the world – to a virtual standstill as individuals make their way back to their family homes for the holiday season. A tradition that must have been simple enough in the olden days of a close-knit rural lifestyle has become a considerably more complicated; in today's China, more than one hundred thirty million migrant workers travel across the nation to return home for the holidays each year. Though it begins with scenes of mass chaos as thousands of would-be travelers descend on woefully under-equipped train stations, Fan quickly tightens his focus from the masses to his core couple, Changhua and Sugin Zhang. Uneducated country people, Changhua and Sugin had little choice but to leave both their country home and their children behind. While mother and father work long hours in big city sweatshops, sending much of their money home to the children and their grandmother. More than anything Changhua and Sugin simply want a better life for their children; they are sacrificing themselves to ensure that their children have at least a chance at an education and a better future than days spent in factory work. For them, this trip is much more than just a holiday – it is the only time of the year they get to see their own children. And so when train tickets prove almost impossible to get, you can imagine how tension and desperation rises. As the film progresses, the physical distance between the family members becomes more and more clearly a metaphor for both the social changes in China as a whole – a family-oriented culture broken down by the pressures of industrialization – and the generation gap that clearly exists between parents and children, a gap in values clearly exacerbated by the fact that mum and dad are literally never at home. A film that puts an achingly human face on complex philosophical issues, Last Train Home is a remarkable piece of work both in terms of its scope and the degree of access Fan has to the family. The camera captures them at their best and very definitely at their worst, with one confrontation between father and daughter so uncomfortable it is nearly impossible to watch. It is a starkly honest, beautiful, thoughtful piece of work. – Todd Brown, Twitch Film
Showtimes:
No screenings currently scheduled.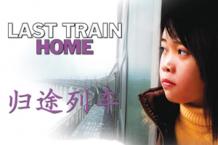 Language:
Mandarin with English Subtitles