Let the Right One In
Oscar, an overlooked and bullied boy, finds love and revenge through Eli, a beautiful but peculiar girl who turns out to be a vampire.
A well-crafted horror film in the tradition of Guillermo del Toro's THE DEVIL'S BACKBONE, Swedish import LET THE RIGHT ONE IN ably blends genre chills with genuine feeling. Oskar (Kåre Hedebrant) is a 12-year-old outcast who is frequently picked on by his classmates. He dreams of getting his revenge, but he never stands up to the boys. With the arrival of his new next-door neighbor, 12-year-old Eli (Lina Leandersson), Oskar may finally have found a friend, ally, and first love. But Eli is no ordinary girl: she must keep her pale skin out of the sunlight, she can perform inhuman physical feats, and she has thirst for blood. The bodies begin to pile up, but Oskar can't stay away from the girl who has finally given him courage. Based on the novel by John Ajvide Linqvist (who also wrote the script), LET THE RIGHT ONE IN is the best kind of horror film: one that transcends the tropes of the genre to become something new. This is director Tomas Alfredson's first foray into horror, and he doesn't hesitate to include bits of vampire mythology. But his background making comedies and dramas gives the film a surprising depth; the relationship between Oskar and Eli is tentative and sweet, even though their interactions may be surrounded by blood and violence. Composer Johan Soderqvist and the sound department create a fascinating palette of music and sounds that add to the film's perfectly chilly mood, and setting the film in a snowy Swedish suburb gives director of photography Hoyte Van Hoytema a starkly beautiful environment for shooting. Though LET THE RIGHT ONE IN is ostensibly about a pair of children, this is a horror film for adults. There are plenty of scares, but it remains moving and intelligent, a rare feat for the genre.
Showtimes:
No screenings currently scheduled.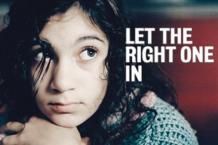 Directed by:
Tomas Alfredson
Starring:
Kåre Hedebrant, Lina Leandersson, Per Ragnar, Henrik Dahl