Mesrine: Killer Instinct
Based on the memoir by Jacques Mesrine
Mesrine: Killer Instinct is the first part of an epic French thriller double bill, about the rise and fall of notorious real-life gangster Jacques Mesrine, played by Vincent Cassel. The film actually opens with events that won't be returned to until part two (Mesrine: Public Enemy No. 1), before flashing back to 1959 to begin Mesrine's story when he was an ex-soldier, back home and living with his parents after serving in the Algerian war. Mesrine soon moves to glamorous 1960s Paris, where he rises through the criminal ranks, under the mentorship of aging gangster Guido (Gerard Depardieu), who Mesrine regards as a father figure. After pulling off an audacious, headline-grabbing heist, Mesrine and his enigmatic lover Jeanne (Cécile de France) flee to Canada, where they team up with Quebec Liberation Front-affiliated gangster Jean-Paul Mercier (Roy Dupuis) for a heist that offers the lure of a huge pay-out. Cassel delivers a commanding central performance, propelling the narrative forward as it skips through the years, giving the effect of excitedly flipping through the pages of a gripping crime novel. Charming, charismatic and, above all, a man of his word, Cassel makes it easy to see why Mesrine became a household name and cult anti-hero within his lifetime. He also has a lot of fun with all the various disguises and facial hair combinations that Mesrine wears throughout the film. The script is excellent and Richet orchestrates several exciting set-pieces. There are also some fabulous running gags, like Mesrine constantly correcting the pronunciation of his name ('It's MERR-in') and his habit of doing a bank job, waiting for the sound of sirens, then quickly moving to the next street and hitting another bank. In addition, there's superb support from Depardieu, Dupuis, Cécile de France, and Elena Anaya as Sofia, Mesrine's first wife and the mother of his children. Mesrine: Killer Instinct is a hugely enjoyable gangster thriller with a terrific central performance from Vincent Cassel. Highly recommended. – Matthew Turner, ViewLondon Official Trailer
Showtimes:
No screenings currently scheduled.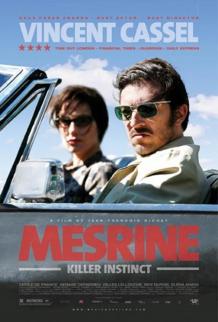 Directed by:
Jean-François Richet
Country(ies):
France/Canada/Italy
Language:
French with English Subtitles
Starring:
Vincent Cassel, Cécile de France,Gérard Dépardieu, Roy Dupuis
Screenplay by:
Abdel Raouf Dafri, Jean-François Richet
Merchandise
Name plaques, donations, gift certificates, memberships, aprons, market bags, T-shirts, hats, 35mm bookmarks, 35mm earrings and button.
Due to shipping expenses, we request a minimum $25 order.