Mesrine: Public Enemy No. 1
The sequel to Mesrine: Killer Instinct
Having crammed exhausting decades of violent crime and prison-breaks into the first half of this movie portrait (Mesrine: Killer Instinct), director Jean-François Richet here calms down to focus on his subject's final few years. The mayhem doesn't stop but there's a key difference between the films, summed up in one stand-out sequence that begins with Jacques Mesrine (Vincent Cassel) happily celebrating his arrest by police, and treating his glum captor Commissiare Broussard (Olivier Gourmet) to champagne as the cameras snap. Once in prison though, Mesrine is outraged that terrorist group The Red Brigade has pushed him from the front page. Immediately demanding a typewriter, Mesrine sets about composing his overboard memoirs. If Killer Instinct catalogued its hero's reign of terror, Public Enemy Number One concentrates on Mesrine's obsession with his own legend. Later, Mesrine is in maximum security with fellow armed robber, François Besse (Mathieu Amalric). The pair inevitably team up for break-out and proceed to carry off a number of heists. Amalric wisely takes a back seat to Cassel's high-powered performance and this in itself underlines the film's major point; Besse is a professional, keen on rigorous planning and minimising the danger to himself. In contrast, Mesrine is spontaneous, reckless and would rather make the headlines than a clean getaway. The film is littered with instances of Mesrine comparing himself with various revolutionary groups of the time, desperate to keep a heroic image with the public by using shaky logic to make waving loaded guns at bank staff sound like he's sticking it to the man. He spends as much time giving interviews to the press as he does hiding out with his floozy girlfriend Sylvie (Ludivine Sagnier). Considering how publicity hungry he is, it's a nice touch that Mesrine's final blaze of glory bookends the film, initially in the form of frantic television news reports, but finally for us, as a cool, matter-of-face sequence, the one time the film gets close to resembling documentary rather than ironic hagiography. – Film4 Official Trailer
Showtimes:
No screenings currently scheduled.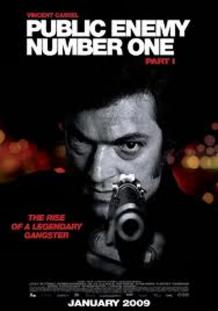 Directed by:
Jean-François Richet
Language:
French with English Subtitles
Starring:
Vincent Cassel Mathieu Amalric Ludivine Sangier Gérard Lanvin Olivier Gourmet
Screenplay by:
Abdel Raouf Dafri Jean-François Richet
Merchandise
Name plaques, donations, gift certificates, memberships, aprons, market bags, T-shirts, hats, 35mm bookmarks, 35mm earrings and button.
Due to shipping expenses, we request a minimum $25 order.