Micmacs
Micmacs is a hugely entertaining, frequently funny and dazzlingly inventive comedy-drama that's a treat for fans of Jean-Pierre Jeunet, thanks to a delightful cast, a superb score and the director's stunningly visual signature style. The film stars French comedian Dany Boon as Bazil, who, as a child, lost his father to a landmine. Decades later, Bazil is working in a video shop when a stray bullet lodges itself in his brain; the doctors decide not to operate, but when he leaves hospital he finds himself both homeless and jobless. While wandering the streets, Bazil falls in with old-timer Slammer (Jean-Pierre Marielle), who introduces him to a makeshift family of scrap-collecting misfits, including human cannonball Buster (Dominique Pinon), math whiz Calculator (Marie-Julie Baup), homily-spouting Remington (Omar Sy), matronly Mama Chow (Yolande Moreau) and a contortionist with a resistance to cold (Julie Ferrier). One day, Bazil discovers the offices of two rival weapons manufacturers (Andre Dussollier and Nicolas Marie) and, realising that one made the bullet in his brain and the other made the landmine that killed his father, decides to take them both down, with a little help from his new friends. Micmacs is virtually brimming over with Jeunet's signature visual style, almost as if over-compensating for the relative disappointments of A Very Long Engagement. As a result, there are several wonderful sight gags, all of which are accompanied by a terrific score that incorporates the work of '40s composer Max Steiner (fittingly, since The Big Sleep is playing in the video shop when Bazil gets shot). The performances are superb; Boon makes a terrific, slightly dopey lead and there's strong work from Jeunet regulars such as Pinon and Moreau. In addition, the script crackles with witty dialogue and the plot works beautifully as a satire on the arms trade. Highly recommended. – Matthew Turner, ViewLondon
Showtimes:
No screenings currently scheduled.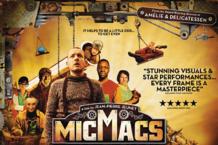 Directed by:
Jean-Pierre Jeunet
Language:
French with English Subtitles
Starring:
Dany Boon, André Dussollier, Dominique Pinon, Nicolas Marie, Omar Sy, Jean-Pierre Marielle, Yolande Moreau
Screenplay by:
Jean-Pierre Jeunet, Guillaume Laurant
Merchandise
Name plaques, donations, gift certificates, memberships, aprons, market bags, T-shirts, hats, 35mm bookmarks, 35mm earrings and button.
Due to shipping expenses, we request a minimum $25 order.