Never Let Me Go
based on "the best novel of the decade"
Based on the novel of the same name by Kazuo Ishiguro (Remains of the Day). Ruth, Kathy and Tommy spent their childhoods at a seemingly idyllic English boarding school. As they grow into young adults they learn they must come to terms with their love for each other, while preparing themselves for the haunting reality that awaits them. Oscar nominees Carey Mulligan (An Education) and Keira Knightley (Pride & Prejudice, Atonement) star with Andrew Garfield and Charlotte Rampling. "This is a moving and provocative film that initially unsettles, then disturbs and finally haunts you well into the night." (Kenneth Turan, L.A. Times) Official Trailer
Showtimes:
No screenings currently scheduled.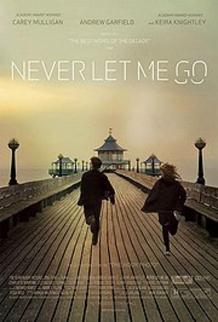 Directed by:
Mark Romanek
Starring:
Keira Knightley, Carey Mulligan, Andrew Garfield
Screenplay by:
Kazuo Ishiguro (novel), Alex Garland (screenplay)