Phantom of the Paradise
He sold his soul for rock and roll.
Brian De Palma's great, overlooked 1970s glitter-rock comedy-musical spectacle is a memorable combination of THE PHANTOM OF THE OPERA and FAUST. Winslow Leach (William Finley) is a talented young rock composer/janitor whose music is stolen and whose life is destroyed by a ruthless record tycoon named Swan (Paul Williams)--who just happens to have sold his soul in exchange for rock-n-roll success and eternal youth! The ruined and disfigured Leach becomes the Phantom, an imposing leather-clad creature who is hell-bent on demolishing Swan as the diabolical music mogul prepares to open his biggest venture yet-- a rock-and-roll palace called The Paradise. Eerily prescient in it's depiction of yet-to-exist musical genres, this stunningly original and darkly comic rock nightmare features voice over narration by Rod Serling, and memorable original songs by the multi-talented Williams.
Showtimes:
No screenings currently scheduled.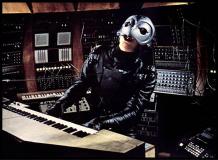 Directed by:
Brian De Palma
Starring:
William Finley, Paul Williams, Jessica Harper, George Memmoli