P.S. I Love You
Sometimes you have to live life one letter at a time
Two-time Oscar winner Hillary Swank tries her hand at romantic comedy in this touching film based on the bestselling Irish novel. Holly Kennedy (Swank) and her charming Irish husband Gerry (Gerard Butler) are a young couple struggling to get by in New York City. Their marriage is 10 years strong, and they are madly in love, but the fates soon step in, when Gerry develops cancer and dies. Holly is completely devastated, and her friends Denise (Lisa Kudrow) and Sharon (Gina Gershon) do their best to console her. Her mother (Kathy Bates) and sister, Rose (Nellie Mckay), also offer their support, but it seems nothing can pull Holly out of her grief. Then one day, she begins to receive love letters Gerry penned before his death. The letters are filled with various stories and instructions, and one of them even contains a plan that sends her and her friends on a trip to Ireland. As Gerry's posthumous letters buoy her up, Holly slowly begins to piece her life back together. His letters help her to celebrate their special love story, and remind her that she must continue to live her life, and seek out happiness. The film's stellar cast delivers many tearjerker moments, and P.S. I LOVE YOU does a fine job of yanking on the heartstrings. The story is ultimately moving, and yes, romantic.
Showtimes:
No screenings currently scheduled.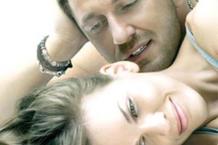 Directed by:
Richard LaGravenese
Starring:
Hilary Swank, Gerard Butler, Gina Gershon, Harry Connick
Screenplay by:
Richard LaGravenese and Steven Rogers based on the novel by Cecelia Ahem
Merchandise
Name plaques, donations, gift certificates, memberships, aprons, market bags, T-shirts, hats, 35mm bookmarks, 35mm earrings and button.
Due to shipping expenses, we request a minimum $25 order.