Return to El Salvador
A documentary about life after civil war.
The film "Return to El Salvador" brings the struggles of this beleaguered country the size of Massachusetts back into view. Filmmaker Jamie Moffett and his crew introduce you to a Salvadoran couple who fled death threats in the 1980s, finding asylum and a political platform in the United States; to a couple who, after studying in Brazil during the worst part of the war, returned to El Salvador to work with churches and poor communities in the department of Santa Ana. They take you to meet the family of a murdered anti-mining activist and people seeking the truth about his death and interview human rights officials who have worked diligently for decades to record and name the atrocities that occur every day. Most important, they bring you the hopes for the future of the Salvadoran people and help you to find significant ways to walk with them in their journey.
Showtimes:
No screenings currently scheduled.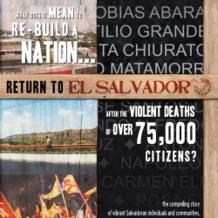 Directed by:
Jamie Moffett
Screenplay by:
Betsy Morgan, Julia Shields