Tell No One
8 years ago, Alex's wife was MURDERED. Today... She e-mailed him.
Tell No One is a French thriller based on the American novel by Harlan Coben. Francois Cluzet plays Alex Beck, a paediatrician who receives a mysterious email, indicating that his supposedly murdered wife Margot (Marie-Josée Croze) is still alive. Given that eight years have elapsed between the murder and the email, Alex is understandably upset about the whole thing. However, his problems get rapidly worse when the police dig up two corpses near the murder site and Alex finds himself under suspicion, leading him to go on the run in order to solve the mystery before the cops get hold of him. Francois Cluzet is superb in the lead role, the dialogue is extremely good and the complex, multi-layered script presents an intriguing mystery that is genuinely gripping. In addition, the violence is impressively realistic and director Canet orchestrates some terrific action sequences. It's worth noting that you have to pay close attention in the early scenes, because you are quickly introduced to several characters at once and have to work out their connections on your own. That said, it's refreshing to see a film that requires its audience to do a little work and a large part of the film's enjoyment comes from trying to keep up with the mystery. In short, Tell Tell No One is a thoroughly enjoyable thriller with a cracking plot, superb performances and exciting action sequences. Why can't Hollywood make thrillers this good anymore? Highly recommended. – Matthew Turner, View London
Showtimes:
No screenings currently scheduled.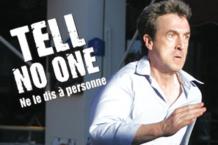 Directed by:
Guillaume Canet
Language:
French with English subtitles
Starring:
Francois Cluzet, Kristin Scott Thomas, Marina Hands, Marie-Josee Croze
Screenplay by:
Guillaume Canet based on the novel by Harlan Coben