The Burnt Orange Heresy, a thriller about an art critic desperate to uncover a reclusive painter's secret works, features smart, hot, mischievous chemistry between Claes Bang and Elizabeth Debicki, two actors who could sell you just about any Old Master knockoff.
With a Cary-Grant-on-vacation wardrobe and a silky, unplaceable English accent, Bang's character, James Figueras, exudes an air of slightly chipped polish from the first frame, which sees him delivering a well-rehearsed, glibly clever lecture on the power of the art critic to a gormless group of American vacationers in Italy. In the back row is wry, enigmatic drifter Berenice (Debicki), who playfully challenges Figueras and falls into bed with him not long after – though whether she's merely a beguiling chance acquaintance or a femme fatale with an agenda is the first of the film's various enfolded question marks.
The spark between them is sufficiently electric that we don't question why Figueras immediately invites her along on a trip to the swanky Lake Como estate of renowned art collector Joseph Cassidy (Mick Jagger), who has a potentially career-enhancing proposal for the jaded critic: an interview with reclusive artist Jerome Debney (Donald Sutherland). The catch: he has to acquire one of Debney's unexhibited, fiercely guarded new paintings for Cassidy.
Needless to say, nothing that ensues is precisely as it seems – least of all Debney, played with a worn, wily twinkle by Sutherland, who blithely disagrees with the critic's assertion that he has 'a duty to posterity'.
The Burnt Orange Heresy blends simplified art theory with more general quippery, giving Bang and Debicki plenty of flirtatious banter before the tone takes a darker turn.
– Guy Lodge, Variety
INTERVIEW WITH: Director Giuseppe Capotondi and actor Claes Bang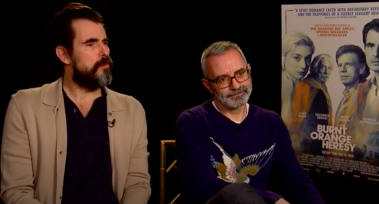 Watch Director Giuseppe Capotondi and co-star Claes Bang discuss the film and what it was like to work with the iconic Mick Jager