The Duchess of Langeais
Nearing 80, French new wave director Jacques Rivette continues to display a fine touch directing an intimate tale about the games lovers play taken to extremes.
"A masterpiece, the latest of Rivette's many Balzac adaptations is a deceptively simple dramatisation of 'La Duchesse de Langeais'. Mostly a faintly but fittingly theatrical two-hander set in the salons and boudoirs of 1820s Paris, it chronicles the cat-and-mouse relationship between the fêted General Armand de Montriveau (Guillaume Depardieu), and the coquettish Duchess Antoinette de Langeais (Jeanne Balibar). De Montriveau may have been triumphant in the Napoleonic Wars, but this is love, and differently dangerous: one may be sure he never came up against any strategist as mysterious as the woman to whose affections he decides he ought to lay siege…What starts partly as a flirtatious testing of their own seductive appeal steadily turns into a perverse struggle in which each – for reasons evidently unclear even to themselves – becomes convinced that they might love the other. Less eccentric in many respects than most of the director's work, it's extraordinarily subtle, akin to the films of Rohmer in its delicate but firm grasp of the complexity of human desire, yet remaining typical of Rivette in the way it skillfully negotiates the shifting sands of all manner of uncertainties. The leads are superb: Depardieu glowering and clumsy to suggest how ill rehearsed the General is in the rules of salon society, Balibar sliding from sly manipulations towards the realisation that she's losing control of the strange game she started. (Rivette stalwarts Bulle Ogier, Michel Piccoli and Barbet Schroeder lend lovely support.) The whole thing is compelling from start to finish; 'cruel ironies' doesn't even begin to describe it." - Time Out London
Showtimes:
No screenings currently scheduled.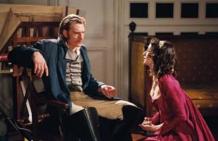 Directed by:
Jacques Rivette
Country(ies):
France/Italy
Language:
French with Englsih subtitles
Starring:
Jeanne Balibar, Guillaume Depardieu, Bulle Ogier, Michel Piccoli, Barbet Schroeder
Screenplay by:
Pascal Bonitzer, Christine Laurent