The Orphanage
~ 26 International Film Awards ~
Haunting and heartbreaking, The Orphanage delivers a double whammy of chills both real and supernatural. Set in a crumbling children's home recently reopened by ex-resident Laura (Belén Rueda), this Spanish haunted house movie begins its assault after Laura's son Simón (Roger Príncep) vanishes on a sunny afternoon. Convinced Simón's stories about imaginary friends in the spooky building prove he's been spirited away by malevolent ghosts, Laura embarks on a quest to retrieve him that will push her to the limit of sanity. "Seeing is not believing", explains a medium (Geraldine Chaplin) as this emotionally draining movie casts its deadly spell, "it's the other way around". Artfully directed by debut filmmaker Juan Antonio Bayona (under the watchful eye of producer Guillermo Del Toro), the film invites us to follow Laura on her torturous journey: either she's losing her marbles or the orphanage hides a dark, supernatural secret. Weaving together understated references to Peter Pan, The Turn of the Screw and Poltergeist, The Orphanage stands as one of the most beautiful and moving horror movies in recent memory. - Jamie Russell, BBC
Showtimes:
No screenings currently scheduled.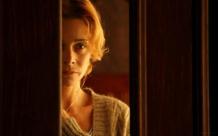 Directed by:
Juan Antonio Bayona
Country(ies):
Mexico/Spain
Language:
Spanish with English Subtitles
Starring:
Belén Rueda,Fernando Cayo, Carmen López, Geraldine Chaplin
Merchandise
Name plaques, donations, gift certificates, memberships, aprons, market bags, T-shirts, hats, 35mm bookmarks, 35mm earrings and button.
Due to shipping expenses, we request a minimum $25 order.