The Road
In a moment the world changed forever.
Directed by John Hillcoat and based on the Pulitzer Prize-winning novel by Cormac McCarthy, The Road stars Viggo Mortensen as an unnamed man travelling through a post-apocalyptic landscape with his young son (Kodi Smit-McPhee) after an unspecified catastrophe has laid waste to the world. Flashbacks reveal that the man's wife (Charlize Theron) gave birth to their son shortly after the catastrophe first struck, so the boy has known no other life than the post-apocalyptic wasteland. As they head south towards the coast, pushing their shopping trolley full of rags and whatever food they can find, the pair encounter several different people, including: a member of a marauding gang whose members eat flesh to survive; an old man; a gang of people who seem to be keeping prisoners in a big house; and an opportunistic thief. Meanwhile, the man tries to keep the idea of hope alive in the boy, knowing that his deteriorating health will mean that his son will soon have to fend for himself. – Matthew Turner, ViewLondon
Showtimes:
No screenings currently scheduled.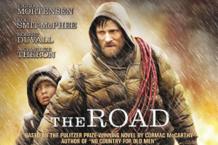 Directed by:
John Hillcoat
Starring:
Viggo Mortensen, Kodi McPhee, Charlize Theron, Guy Pearce
Screenplay by:
Cormac McCarthy (novel) Joe Penhall (adaptation)