The Savages
~ 2 Academy Award Nominations ~ Best Actress ~ Best Screenplay ~
Laura Linney is terrific as Wendy, creating a complex, awkward character who manages to retain the audience's sympathy despite behaving in frequently appalling ways. Hoffman is equally good as Jon and the two actors spark off each other in genuinely interesting ways, while there's strong support from both Philip Bosco and Peter Friedman. Jenkins' script is excellent, perfectly capturing both the complex nature of difficult family relationships and the importance of basic human contact. The writing is also commendably subtle in places, leaving the audience to draw their own conclusions about the knock-on effect of their father's terrible parenting (e.g. Wendy's self-destructive affair and Jon's refusal to marry his Polish girlfriend). In addition, the film smartly avoids the usual button-pushing cliches, particularly in regard to their relationship with Lenny. There's also a lot of spiky humour in the film. In short, The Savages is a sharply observed, brilliantly written and ultimately extremely moving film with terrific performances from two of Hollywood's finest actors. Highly recommended.
Showtimes:
No screenings currently scheduled.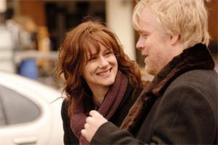 Directed by:
Tamara Jenkins
Starring:
Laura Linney, Philip Seymour Hoffman
Merchandise
Name plaques, donations, gift certificates, memberships, aprons, market bags, T-shirts, hats, 35mm bookmarks, 35mm earrings and button.
Due to shipping expenses, we request a minimum $25 order.