The Secret Life of Bees
THE SECRET LIFE OF BEES, based on the New York Times best selling novel and set in South Carolina in 1964, is the moving tale of Lily Owens (Fanning) a 14 year-old girl who is haunted by the memory of her late mother (Burton). To escape her lonely life and troubled relationship with her father (Bettany), Lily flees with Rosaleen (Hudson), her caregiver and only friend, to a South Carolina town that holds the secret to her mother's past. Taken in by the intelligent and independent Boatwright sisters (Latifah, Okonedo and Keys), Lily finds solace in their mesmerizing world of beekeeping.
Showtimes:
No screenings currently scheduled.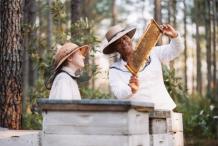 Directed by:
Gina Prince-Bythewood
Starring:
Dakota Fanning Queen Latifah Jennifer Hudson Alicia Keys Sophie Okonedo
Screenplay by:
Gina Prince-Bythewood (Screenplay) Sue Monk Kidd (Novel)
Merchandise
Name plaques, donations, gift certificates, memberships, aprons, market bags, T-shirts, hats, 35mm bookmarks, 35mm earrings and button.
Due to shipping expenses, we request a minimum $25 order.