Winter's Bone
Debra Granik's blend of low-budget regional realism and crime thriller (adapted from the novel by Daniel Woodrell) is an absolute knockout. Young Jennifer Lawrence is sensational as Ree, fierce teenage scion of an Ozark family of bootleggers, outlaws and meth-cookers. When she finds out that her dad has put up her family house and 300 acres of virgin timber on bond, and then jumped bail, Ree has a week to track him down or be evicted, along with her younger sister and brother and her near-catatonic, pharmaceutical-addled mother. Problem is, the only people who might know where Pa is are the meanest and scariest members of her extended family, and what they know might not be stuff Ree wants to learn. Granik captures the details of life in the ruined and beautiful backwoods villages of Missouri in thoroughly convincing, documentary-like detail, but there's not much meandering or contemplation. This is a woman who knows how to direct a damn movie; Winter's Bone builds to an ominous, almost breathless tension, every moment pregnant with violence and disaster. John Hawkes adds a powerful performance as her wiry, speed-freak uncle Teardrop, who virtually oozes menace but is Ree's closest capable relative and her only source of succor. Channeling both urban myths ('The Sopranos') and rural ones (The Texas Chainsaw Massacre), Granik reveals herself as a lean and forceful tale-spinner, as courageous in her own way as the indomitable Ree. – Andrew O'Hehir, Salon
Showtimes:
No screenings currently scheduled.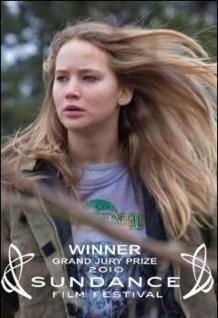 Directed by:
Debra Granik
Starring:
Jennifer Lawrence, John Hawkes, Kevin Breznahan, Dale Dickey
Screenplay by:
Debra Granik, Anne Rosellini
Merchandise
Name plaques, donations, gift certificates, memberships, aprons, market bags, T-shirts, hats, 35mm bookmarks, 35mm earrings and button.
Due to shipping expenses, we request a minimum $25 order.