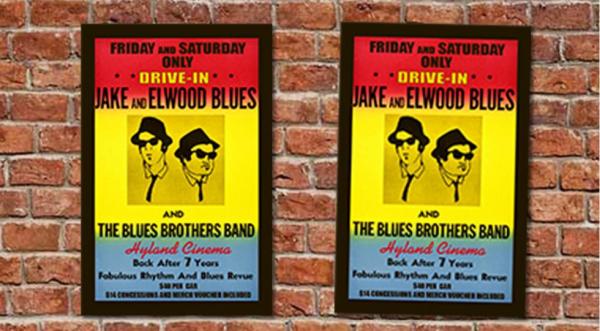 Experience The Blues Brother at the Drive-In!
Aug. 14th and 15th
Show starts at 9:00pm
Reserve Your Space HERE
Roger Ebert January 1, 1980 This is some weird movie. There's never been anything that looked quite like it; was it dreamed up in a junkyard? It stars John Belushi and Dan Aykroyd as the Blues Brothers, Jake and Elwood, characters who were created on "Saturday Night Live" and took on a fearsome life of their own.
---
---
We're Now Open
​
Safety Measures and Governmental Guidelines:
50 people per auditorium
You are allowed to remove your mask to eat concessions but a mask must be worn at all other times
Plexiglass has been installed at the front registers
All employees will wear masks and gloves
We installed foot operated and touchless hand sanitizer station will be at the entrance and exits
An improved online ticket buying experience has been put in place so you can skip the line and promote social distancing
Common touch surfaces and bathrooms will be sanitized regularly
The auditorium will be thoroughly cleaned between shows and at the end of the day
Social distancing measures will be put in place
---
Memberships will be extend by 4 months
Please purchase Tickets Online to avoid line-ups & promote social distancing (prices are the same online & at the Box Office)
MASKS must be worn if you enter the cinema
You are still allowed to SNACK & MASK
---
---