Séraphine
Based on the life of French painter Séraphine de Senlis
SÉRAPHINE is the true story of Séraphine Louis aka Séraphine de Senlis (Yolande Moreau), a simple and profoundly devout housekeeper who in 1905 at age 41 — self-taught and with the instigation of her guardian angel — began painting brilliantly colorful canvases. In 1912 Wilhelm Uhde (Ulrich Tukur), a German art critic and collector — he was one of the first collectors of Picasso and champion of naïve primitive painter Le Douanier Rousseau — discovered her paintings while she worked for him as a maid in his lodgings in Senlis outside Paris. Uhde became her patron and grouped her work with other naïve painters – the so-called "Sacred Heart Painters" — with acclaimed shows in Paris, elsewhere in Europe and eventually at New York's MOMA. Director Martin Provost builds his story around the relationship between the avant-garde art dealer and the visionary cleaning lady, forging a testament to the mysteries of creativity and the resilience of one woman's spirit. A sleeper hit in France, SÉRAPHINE went on to a surprise win of the Best Picture and Best Actress for Yolande Moreau along with five other awards at the 2009 Cesars, the French equivalent of the Academy Awards.--© Music Box Films
Showtimes:
No screenings currently scheduled.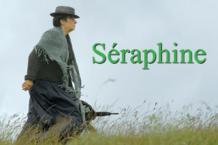 Directed by:
Martin Provost
Country(ies):
France, Belgium
Language:
French with English subtitles
Starring:
Yolande Moreau, Ulrich Tukur, Anne Bennent, Genevieve Mnich
Screenplay by:
Marc Abdelnour, Martin Provost
Merchandise
Name plaques, donations, gift certificates, memberships, aprons, market bags, T-shirts, hats, 35mm bookmarks, 35mm earrings and button.
Due to shipping expenses, we request a minimum $25 order.