Steep
Steep traces the legacy of extreme skiing from its early pioneers to the daredevils of today.
My idea of a risk-taking thrill skews more towards darkened movie theaters, so I have no end of admiration for people actually crazy enough to put themselves in physical danger for an adrenaline rush. The new documentary Steep follows some of the craziest of the crazies, that lovably irascible bunch we know of as big mountain skiers. Chock-full of extraordinarily vivid footage of men (and one woman) careening down the steepest possible slopes, in the most forlorn and foreboding parts of the world (northern Iceland, anyone?), the movie brings to mind an IMAX production and demands to be seen on the biggest possible screen. As the film shows the sport's legends racing down mountains, preparing for their next ballsy adventure and justifying their actions in interviews, the same question repeats constantly throughout: Why live your life in a safe, boring fashion when there are risks to be faced and thrills to be had?" I might have an answer: Some of us would actually like to make it to old age. Andrew Mclean, Anselme Baud, Bill Briggs (legendary for skiing down the entire slope of Wyoming's 13,370-foot Grand Teton Mountain, and one of the few who actually seem to have made it past 60) and the rest of the pros profiled spend most of the picture scoffing at that logic. And more power to them for it. One jump off one of these geological behemoths more than covers any bad karma myself and my fellow non-risk seekers might have attained for our inaction. So, please keep doing what you're doing, and I promise to sit back, relax and safely enjoy Steep 2. – Robert Levin, Cinema Attraction
Showtimes:
No screenings currently scheduled.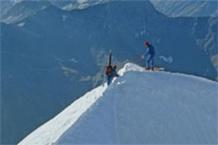 Directed by:
Mark Obenhaus
Starring:
Ingrid Backstrom, Anselme Baud, Bill Briggs, Doug Coombs, Chris Davenport, Stefano De Benedetti