The Kite Runner
There is a way to be good again.
How long has it been since you saw a movie that succeeds as pure story? That doesn't depend on stars, effects or genres, but simply fascinates you with how it will turn out? Marc Forster's magnificent The Kite Runner, based on Khaled Hosseini's much-loved novel, is a movie like that. It superimposes human faces and a historical context on the tragic images of war from Afghanistan. The story begins with boys flying kites. It is the city of Kabul in 1978, before the Russians, the Taliban, the Americans and the anarchy. Amir (Zekiria Ebrahimi) joins with countless other boys in filling the sky with kites; sometimes they dance on the rooftops while dueling, trying to cut other kite strings with their own. Amir's friend is Hassan (Ahmad Khan Mahmoodzada), the son of the family's longtime servant. Hassan is the best kite runner in the neighbourhood, correctly predicting where a kite will return to earth and waiting there to retrieve it. On a day that will shape the course of many lives, a neighbourhood bully and his gang track down Hassan, attack him and rape him. Amir arrives to see the assault taking place, and to his shame, sneaks away. The guilt he feels over his inaction sets in motion a sequence of events that separates the boys, and casts the die for both of their futures. Years later, the modern-day Amir, living in Los Angeles in 2000, receives a telephone call from the adult Hassan: 'You should come home. There is a way to be good again'. Then commences a remarkable series of old memories and new realities, of the present trying to heal the wounds of the past, of an adult trying to repair the damage he set in motion as a boy. The performances by the actors playing Amir and Hassan as children are natural, convincing and powerful. Ahmad Khan Mahmoodzada, as young Hassan, is particularly striking, with his serious, sometimes almost mournful face. One of the areas in which the movie succeeds is in its depiction of kite flying. Yes, it uses special effects, but they function to represent what freedom and exhilaration the kites represent to their owners. Yet there is a fundamental difference between the kite flyer, Amir, and the kite runner, Hassan. Perhaps that sad wisdom in Hassan's eyes comes from his certainty that all must fall to earth, sooner or later. – Roger Ebert, Chicago Sun-Times
Showtimes:
No screenings currently scheduled.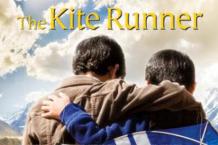 Directed by:
Marc Forster
Language:
English, Dari, Pashtu, Urdu, and Russian with English subtitles
Starring:
Khalid Abdalla, Homayoun Ershadi, Zekiria Ebrahimi, Ahmad Khan Mahmoodzada
Screenplay by:
David Benioff. Based on the bestselling novel by Khaled Hosseini