A Clockwork Orange
There's Stanley Kubrick's "A Clockwork Orange," and then there's everything else.
From its opening shot of Malcolm McDowell staring with evil intent directly into the camera (which pulls back to reveal him drinking a glass of milk), Stanley Kubrick's brilliant A CLOCKWORK ORANGE announces itself as a completely new kind of viewing experience. The film, set in an unidentified future, overwhelms the senses with its almost comic depictions of rape and violence set to an upbeat classical and pop music score. Kubrick based his chilling masterpiece on Anthony Burgess's culture-shaking novel about a young man growing into adulthood, but unable to shake his huge problem with authority figures. The first part of the film shows Alex (a career-defining performance by McDowell) and his "droogs" (his cohorts) indulging in what they refer to as "a little bit of the old ultraviolence." After establishing Alex and co. as unremitting psychopaths, Kubrick's movie changes tact, and shows Alex getting caught and forced to undergo controversial treatment that will make it impossible for him to commit violent acts, leading to a fascinating ending to the film. A CLOCKWORK ORANGE purposely confuses crime and punishment, cause and effect, hero and villain, irony and satire, and many other concepts, creating a truly unique work of art in the process. Its magnificent, colorful, futuristic set designs and utter determination to shock, frighten, and thoroughly entertain left audiences reeling in the '70s. Kubrick even withdrew the film from distribution in the UK, after reading newspaper reports of people dressing up as Alex and his Droogs and meting out their own brand of ultraviolence (it was subsequently rereleased after his death). One thing is for sure: No one who has seen it has ever been able to hear "Singin' in the Rain" or Beethoven again in quite the same way.
Showtimes:
No screenings currently scheduled.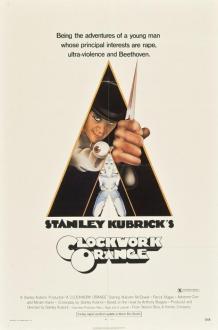 Directed by:
Stanley Kubrick
Starring:
Malcolm McDowell, Patrick Magee, Adrienne Corri, Aubrey Morris Starring: Malcolm McDowell, Patrick Magee, Adrienne Corri, Aubrey Morris, James Marcus, Michael Bates, Warren Clarke, Carl Duering, John Clive, David Prowse
Screenplay by:
Stanley Kubrick based on the novel by Anthony Burgess