JOIN US FOR OUR SPECIAL SHOW OF JAWS IN DECEMBER!!
Come warm up with a hot chocolate & your favourite beach!
ADDED NEW YEAR'S EVE MATINEE SHOW! DECEMBER 31st at 1230PM!
BOTH SHOWS PRESENTED ON GLORIOUS 35MM FILM!!
When a young woman is killed by a shark while skinny-dipping near the New England tourist town of Amity Island, police chief Martin Brody (Roy Scheider) wants to close the beaches, but mayor Larry Vaughn (Murray Hamilton) overrules him, fearing that the loss of tourist revenue will cripple the town. Ichthyologist Matt Hooper (Richard Dreyfuss) and grizzled ship captain Quint (Robert Shaw) offer to help Brody capture the killer beast, and the trio engage in an epic battle of man vs. nature.
Jaws - Film Review
Roger Ebert, rogerebert.com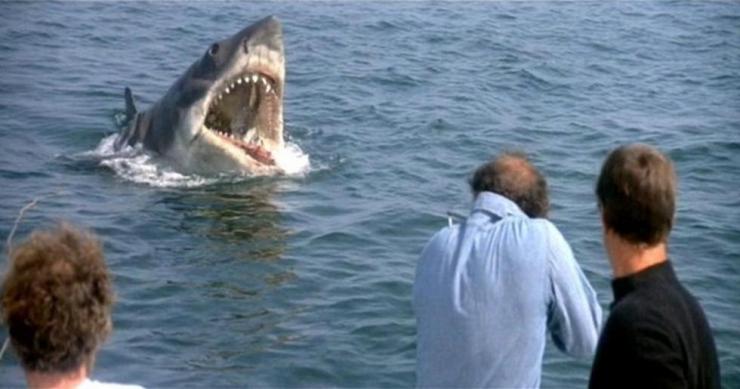 "In keeping the Great White offscreen, Spielberg was employing a strategy used by Alfred Hitchcock throughout his career. "A bomb is under the table, and it explodes: That is surprise," said Hitchcock. "The bomb is under the table but it does not explode: That is suspense." Spielberg leaves the shark under the table for most of the movie. And many of its manifestations in the later part of the film are at second hand: We don't see the shark but the results of his actions. The payoff is one of the most effective thrillers ever made." For the full interview CLICK HERE.