Labyrinth
A' mazing tale of never-ending fantasy. - LATE NIGHT ONLY!
Young Sarah is left home alone by her parents and she has to babysit her little brother Toby. But the baby keeps crying and Sarah, while telling him a story to make him sleep, inadvertently conjures from a fantasy world the Goblin King who steals the child and brings him to his castle in the middle of a labyrinth. Sarah has to rescue him before midnight, or the baby will became a goblin... Official Trailer
Showtimes:
No screenings currently scheduled.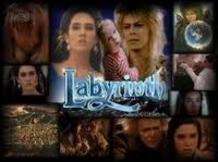 Starring:
David Bowie, Jennifer Connelly, Toby Froud, Brian Hensen