BUY YOUR OWN SOVENIER VOMIT BAG - Only $2.00 (we hope you don't need to use it!)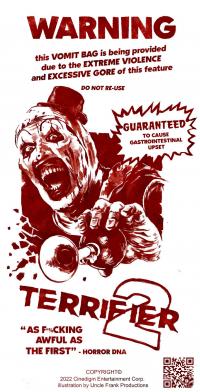 AVAILABLE WHILE SUPPLIES LAST!
After being resurrected by a sinister entity, Art the Clown returns to the timid town of Miles County where he targets a teenage girl and her younger brother on Halloween night.
THIS IS AN 18+ SCREENING - NO ONE UNDER 18 WILL BE ADMITTED (even with an adult or guardian).
FILM REVIEW - TERRIFIER 2
Brad Miska, bloody-disgusting.com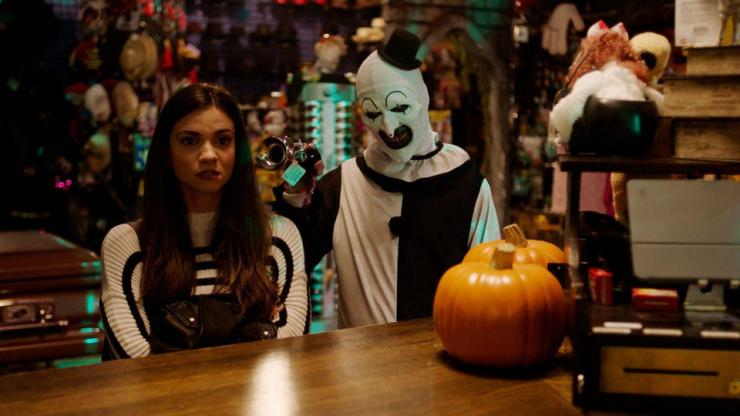 "The first time I saw Damien Leone's slasher epic Terrifier 2 it was like a bolt of lightning shooting through my body – it's hard to describe that kind of excitement, but horror fans know exactly what I'm talking about. Anyways, I was excited, extremely excited, and I had nobody to share it with. The first thing I did was send it to our Editor-in-Chief John Squires to see if I had lost my mind. When he returned the same enthusiasm, I knew Terrifier 2 was something special. Still, none of us anticipated this. When Cinedigm and Bloody Disgusting acquired Terrifier 2, the plan was for a brief theatrical stint before sending it to SCREAMBOX and digital/VOD platforms. Damien insisted that the film be released completely uncut and in its true form, the way he intended and the way fans deserve their horror delivered." For the full article please CLICK HERE.