The Trotsky
The revolution begins in high school.
A privileged Montreal teen believes he's the reincarnation of Russian revolutionary Leon Trotsky and acts accordingly in high-concept teen comedy The Trotsky, from Canadian writer-director Jacob Tierney (Twist). Sharing his radical hero's birth name, Leon Bronstein (Jay Baruchel) keeps a bright red checklist in his bedroom that outlines his destiny. It includes 'get exiled (twice), marry an older woman (preferably named Alexandra) and get assassinated (hopefully somewhere warm).' After Leon organizes a hunger strike at his father's garment factory, his capitalist père (Saul Rubinek) cuts off funds for private school. Enrolling at a public high school for his senior year, Leon brings new meaning to the words 'student union' – and conceives a social-justice theme for the school prom. While fighting fascism as embodied by detention-dispensing Mrs. Davis (Domini Blythe) and dictatorial principal Berkhoff (Colm Feore), Leon must also battle student apathy among his peers, who've never heard of collective action. As his antics get him in trouble with the law, he meets retired activist turned disillusioned McGill professor Frank (Michael Murphy) and his gorgeous former student – named Alexandra, natch (Emily Hampshire) – who is the requisite nine years older than Leon. – Alissa Simon, Variety
Showtimes:
No screenings currently scheduled.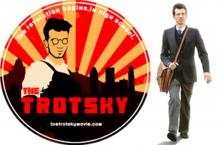 Directed by:
Jacob Tierney
Starring:
Jay Baruchel, Emily Hampshire, Colm Feore, Michael Murphy, Domini Blythe, Geneviève Bujold, Saul Rubinek